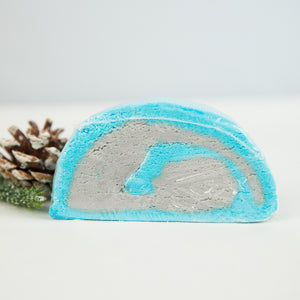 INDOORSY: This scent is a lovely blend of lavender petals, lemon zest, and fresh baked muffins. 
Directions: Break off part of bubble bar that you'd like to use. Hold the bar under running water and rub your thumb over it back and forth for crazy bubbles! Or, you can crumble the bar and drop the crumbs under the running water or agitated as well. The higher your water pressure, the more bubble that will be produced. The color of the water will change to the pretty colors of your bar and the oils inside will leave your skin silky soft!
Each bar weighs aprox 5 ounces. This bar is good enough or 2-4 bath time uses! 
**Note: Tub may be slippery from oils. Color and product may vary depending on different batches. If colorant powder sticks to side of the tub, it will come of with a rinse and light rubbing